Manchester United manager Louis van Gaal admitted his side's start to the season has not been good enough after they drew 0-0 at Burnley.
United are yet to win a competitive fixture under the Dutchman, who gave a debut at Turf Moor to new £59.7m record signing Angel Di Maria.
"When you have two points out of nine that is not good enough and that is disappointing," said Van Gaal.
"The progress is there but a club like Manchester United have to win."
Van Gaal was without 11 players for the game at Burnley, who were involved in their first goalless draw in 41 Premier League matches as they deservedly claimed a first point of the season.
As well as the injury absentees, United were also unable to play defender Marcos Rojo as they wait for a work permit for the Argentina international following his £16m signing from Sporting Lisbon.
"At the moment it's certainly not a world-class team, but we have to wait and have belief that it will come," added Van Gaal, whose squad will be strengthened by the arrival of Netherlands international Daley Blind, 24, after United agreed a fee with Ajax for the defender.
"I think that in the first half we did the same thing as Burnley, we fought.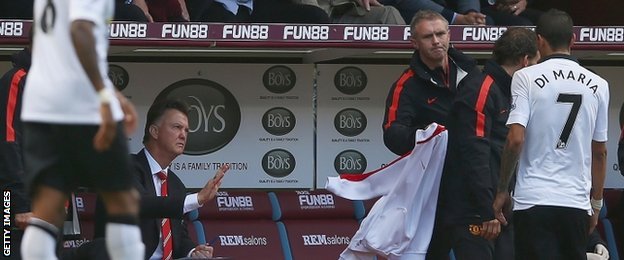 "You have to play the ball against teams like Burnley, we did that better in the second half and created chances.
"But you have to score from those chances, and we didn't do that. It's a disappointing result."
One bright spot for United was a positive debut by Di Maria, who played for 70 minutes before coming off with a minor calf injury.
"He played 60 minutes in his first game back, and 70 today, so I think it's a case of building up his game time," said Van Gaal who stressed the substitution had been precautionary.
"That's also frustrating, but that's part of football because of the World Cup. It's a pity, but we have to do it because otherwise he wouldn't be fit.
"Today, we didn't see the world-class player from Madrid, but you can't expect that yet.
"He has to adapt to the English culture and way of playing, but also to his fellow players. That needs time."
BBC