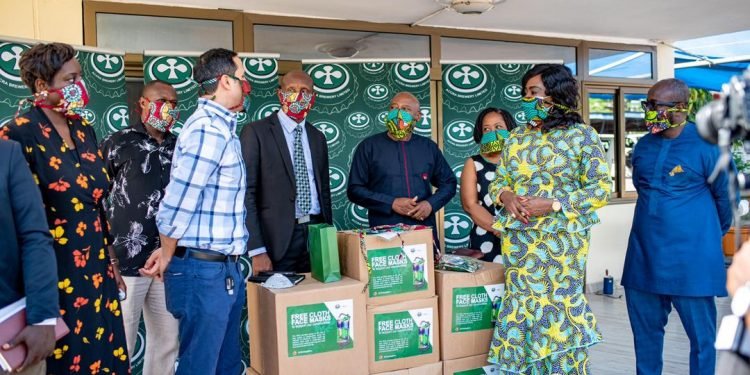 The Accra Brewery Limited (ABL), on Tuesday 26th May, 2020 donated 3,000 free face masks made from cloth to the Ministry of Tourism, Arts and Culture.
The donation is to support the drinking bars in the tourism and hospitality industry to prevent the spread of the Coronavirus.
The 3,000 masks are part of 15,000 Food and Drugs Authority (FDA) and Ghana Standards Authority (GSA) approved masks produced by the Accra Brewery Limited (ABL) in partnership with the Akosombo Textiles Industrial Company (ATL).
The Legal and Corporate Affairs Director of ABL, Adwoa Aaba Arthur, in presenting the masks to the Ministry said, "ABL would continue to educate drinking bar owners of the fight against the pandemic and ensure that customers frequently wash their hands with soap and water, use hand sanitizers at all times and practice social distancing at the bars with fewer tables and chairs for patrons."
In accepting the donation, the Minister of Tourism, Arts and Culture, Barbara Oteng Gyasi expressed her immense appreciation to ABL and commended the company for the gesture.
Ms. Aaba Arthur presented an additional 3,000 free face masks to the Ministry of Trade and Industry on Wednesday, May 27, 2020.
These masks are to support Ghanaians trading in the open markets and central business districts during this pandemic.

The remaining 9,000 free cloth face masks were donated to the Ghana Bar Operators Association (GHABOA), the Ghana Police Service and the Adabraka community.
The Country Director of ABL, Galo Rivera said that "ABL is committed to supporting communities with these face masks and especially the drinking bars which are encouraged to operate by strictly adhering to the precautionary measures for COVID-19."
In addition, "ABL has a home delivery service through Jumia which provides our customers with the option of ordering any of our products online so they can choose to stay at home and be safe".
In April, ABL donated 10,000 bottles of hand sanitizers produced by the company to the Ghana Health Service to support frontline health workers in the country.
Some of these hand sanitizers were donated to the Adabraka Polyclinic, the Association of Ghana Industries and the Adabraka community.
Accra Brewery Limited is a Ghana-based company primarily engaged in the preparation of beverages.
Its main activity is the manufacture and distribution of beer, sparkling soft drinks and non-alcoholic malt beverages.