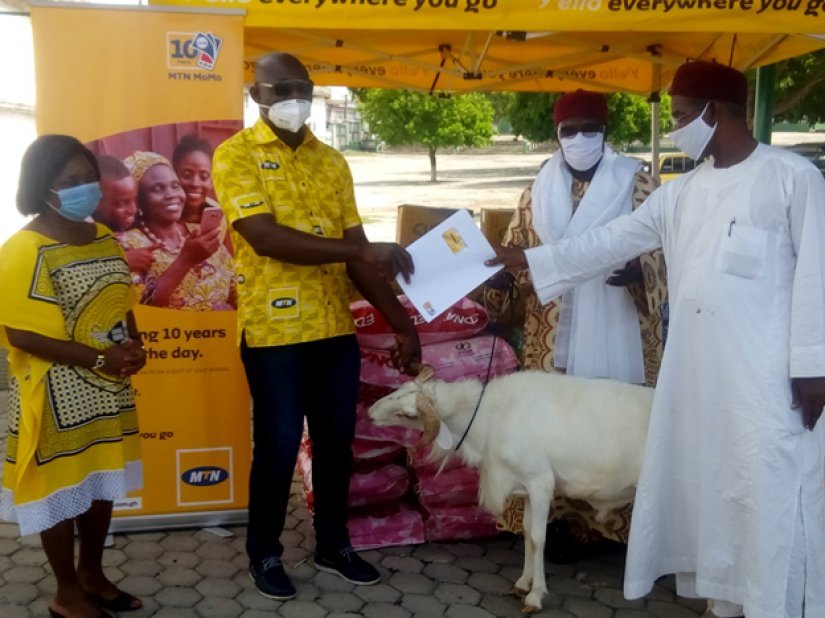 MTN Ghana has presented food items to the Muslim community in support of this year's Ramadan fasting.
The items were presented to the National Chief Imam and three regional Imams in the Ashanti, Western and Northern regions.
The items donated comprised bags of rice, cartons of cooking oil, bags of sugar, crates of tin milk, cartons of milo, soft drinks, water, rams, cash and airtime among others.
Presenting the items to the National Chief Imam in Accra, the Senior Manager for Customer Relations Salihu Abu indicated that this year's Ramadan was not a regular one.
He said "The holy month of Ramadan has coincided with a pandemic that has changed our lives in so many ways. Due to Corona Virus pandemic, we are unable to come together to pray and even break our fast as we usually do. So, during this month, we are all praying that Allah shows us his infinite mercy and spare us from the impact of the pandemic."
Mr Abu further said, "As we fight Corona Virus together, we acknowledge that some responsibilities such as providing basic needs to support the needs of individuals and families fall on the office of the National Chief Imam.
"Especially during this month of Ramadan, we know some families depend on the office of the National Chief Imam. It is in view of this that MTN Ghana, has come here to support, just as we have done over the past years."
Receiving the items, the National Chief Imam, Sheikh Prof. Osman Nuhu Sharabutu expressed his gratitude to MTN Ghana for the gesture.
He said the donation will be utilized equitably and will reach all beneficiaries.
He prayed for God's blessing and guidance for the management and staff of MTN during these difficult times.
In the Ashanti region, the items were received by Sheik Abdul Mumin Harun, Ashanti regional Chief Imam. He thanked MTN for the donation and stated that the company has shown that it is a faithful partner because it has braved the odds and donated in a season where the dreaded disease Covid-19 is wreaking havoc everywhere on the globe and affecting the finances of institutions.
"MTN has proven that not only are they present in good times but they equally think about us during crisis and calamity."
In the Western Region the items were received by Dr Sheikh Ostaz Ali Hassan Ali, Western regional Chief Imam and in the North by Sheikh Abdul Salam Ahmed, Northern regional Chief Imam.
They were grateful to MTN Ghana for coming to support them during the holy month of Ramadan.
MTN has supported the Muslim Community for the past thirteen years during Eidul Fitr celebrations through donations and the organization of events in Nima, Accra New Town, Kumasi, Tamale.
MTN has also been supporting the National Hajj Board annually in the organization of the pilgrimage to Mecca.