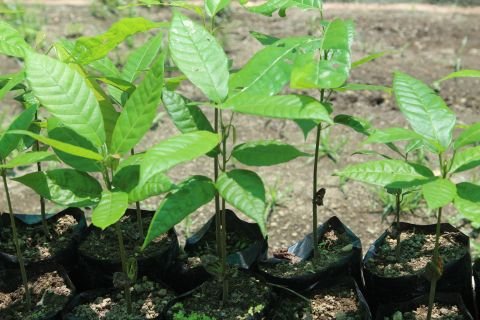 The District Chief Executive (DCE) for Wassa-East, Mr Wilson Arthur, says 71 per cent of the working population in the District depends on agriculture for their livelihood and that is why the sector has been receiving tremendous attention over the past three years.
He projected that the cocoa and other cash crop plantations would see a boom to improve on the livelihoods of farmers.
Mr.Arthur said this during the sharing of one million Cocoa seedlings to farmers at Daboase in the Western Region.
The DCE said an additional 500,000 Cocoa seedlings would be shared in the coming weeks to farmers in the Atobiase zone, Subri and Hemang areas.
Mr Arthur who described the move by the government this year as a transformation, recalled that the seedlings used to be 200,000 for the entire area.
He announced that Cocoa farmers in the area received 120,000 bags of Fertilizers, few weeks ago with 40,000 more to be added in the coming weeks, adding that Wassa-East was the only Cocoa District to benefit from the package so far.
The DCE observed that the demand for seedlings this year was a reflection of renewed vim and interest in Cocoa farming in Wassa-East, a feat which had been achieved within three years.
In a related development, the National Mass Cocoa Pollination exercise would started on Monday in the Wassa-East district.

As part of the exercise, Cocoa extension staff have been increased from five to 24.
Mr Arthur said 15 gangs were added plus the DCE's 30 voluntary gangs.
Mr Arthur announced that he was personally building the infrastructure needed by COCOBOD to relocate the zonal office from Kajebir to Daboase.
He said the Assembly has acquired a mobile clinic to refurbish broken down motorised Cocoa spraying machines District-wide starting in June this year to assist farmers spray their farms on time.
He said through the People With Disability (PWD) grant, his outfit had added close to 100 cocoa spraying machines in the District, where PWDs could rent their machines to farmers to earn an income as they charge GHc50 to GHc100 per day depending on the season.
Source: GNA