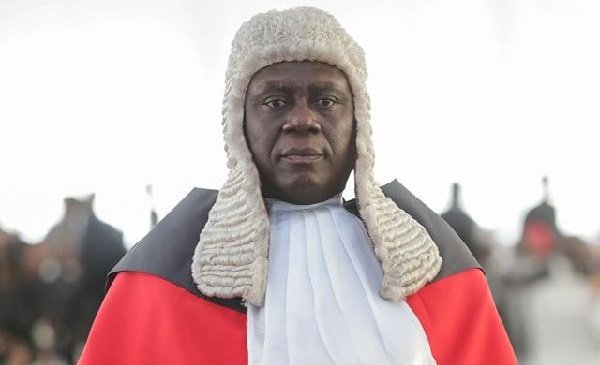 The Chief Justice, Anin Yeboah, has urged embattled businessman, Aflred Agbesi Woyome, to settle his GH₵47.2 million debt owed the state after he was wrongly paid monies in 2009.
"If you have the money, pay for your properties to be released back to you," he said after Woyome tried to interrupt the Chief Justice during a hearing Tuesday.
The state has identified four of the businessman's properties for auction to offset the debt.
The assets to be sold included two mansions at Trassaco Estate; a house at Kpehe, an office complex of Anator Holdings, a residential building at Abelemkpe and a stone quarry, including its plants and equipment.
But the National Security Ministry says, it is struggling to find buyers because they fear the assets are politically tainted.
The Ministry has asked the Attorney-General to have the properties to be transferred to National Security permanently.
The AG, on its own, cannot transfer the said properties because that would mean defying a 2019 Supreme Court order to sell the said properties through public auction.
This is why the Attorney-General was in court to obtain the court's approval for a fresh order to allow the state to take over the properties.
But Woyome is unhappy about the latest move. He came to court without the services of his legal counsel and tried to speak for himself.

He was stopped by Justice Anin-Yeboah.
"Your lawyer has already written to the court that he is a bit under the weather. He has asked for permission to be excused for today, so, if you have anything to say, talk to your lawyer," Justice Anin Yeboah advised.
It was after this comment that the Chief Justice urged Alfred Woyome that the only way to stop the forfeiture of his properties was for him to pay his debts.
The Chief Justice adjourned the case to June 24, 2020 citing the lawyer's absence.
The three-week adjournment is to allow for ample time for the lawyer to fully recover and represent his client, he explained
The Supreme Court, on July 29, 2014, ordered Woyome to refund GH₵51.2 million to the state on grounds that he got the money out of an invalid contract.
The contract was between the state and Waterville Holdings Limited in 2006 for the construction of a stadia for CAN 2008.
The court was of the view that the contracts upon which Woyome made and received the claim were in contravention of Article 181 of the 1992 constitution, which indicated that such contracts be approved by Parliament.
Since ordering the refund in 2014, Woyome has only been able to refund only GH₵4 million.