Officials of the Ministry of Health have distributed 9,000 Personal Protection Equipment (PPEs) to various health institutions across the country.
This is part of measures being implemented by government to contain the Ebola virus should the disease be detected in the country.
The country's Ebola preparedness has been questioned by members of the Ghana Medical Association who say there are no visible signs of government's containment measures on the ground.
A suspected Ebola case at the Dominase SDA Hospital where a man died unattended to by frightened medical officers who had no PPEs with which to attend to him, exposed the country's unpreparedness.
A medical doctor in the hospital said it took four hours for the authorities to secure one PPE from the Ashanti Regional health directorate for purposes of attending to the patient.
But it was too late for the Pusiga native who died with blood oozing from his orifices.
In the aftermath of this incident, government announced through the health ministry that it had procured a number of PPEs but said they will only be distributed to institutions that require them.
Facilities that received the PPEs include regional health directorates and hospitals, National Ambulance Service, Noguchi Memorial Institute for Medical Research and private health facilities, said Public Relations Officer of the Ministry, Tony Goodman.
The Health Ministry said all 9,000 PPEs received from the World Health Organisation (WHO) will be distributed across the country.
Health Minister Dr Kwaku Agyeman-Mensah revealed that the Ebola isolation centre at Tema, in the Greater Accra Region, is ready while work on other isolation centres go on.
Latest on Ebola
More than 3,000 people have died from the Ebola outbreak in West Africa, the World Health Organization said, as the deadly virus continues to spread in the region.
In an update, the United Nations health agency said 3,091 people had died of confirmed, suspected or probable cases of Ebola. A total of 6,574 cases have been reported.
The disease remains concentrated in three countries—Liberia, Guinea and Sierra Leone—which accounted for 3,083 of the deaths, according to data the WHO collected in September 23, 2014.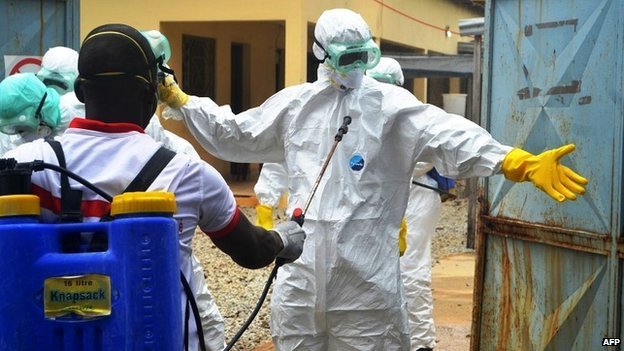 The WHO said four deaths were reported in the Liberian border district of Grand Kru, the first time the virus had been reported there. It also spread to the Kindia district in Guinea.
No new cases were reported in Nigeria or Senegal, two countries where the Ebola virus has been confirmed.
The WHO called exposure of health-care workers to the Ebola virus, which causes high fever and internal bleeding, "an alarming feature of this outbreak." As of Sept. 23, 211 health-care workers had died from the Ebola virus, the WHO said.